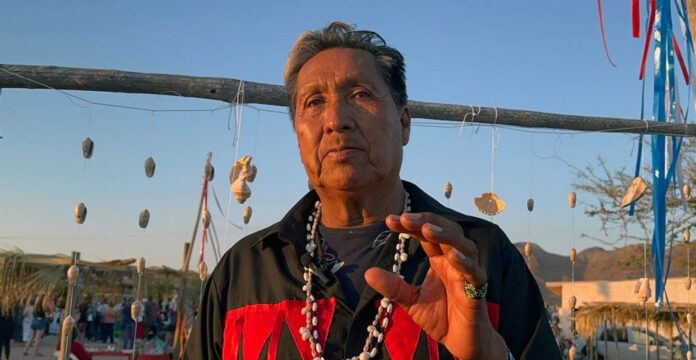 Enrique Robles Barnett, president of the Council of Elders of the Comca'ac Nation, was deprived of his freedom for several hours by a group of heavily armed men who violently entered the Seri indigenous community and took him by force, in Punta Chueca, state of Sonora.
The illegal deprivation of liberty took place early Saturday morning, around 3:00 a.m., when a convoy arrived in the community, which is supposedly guarded by a heavily armed Traditional Guard, but the kidnappers reached Enrique's home Robles and took him away with a family member.
Inhabitants of Punta Chueca and El Desemboque de los Seris, the two towns that make up the Comca'ac Nation that live in the Sonora desert, facing the Sea of Cortez, narrated that at dawn they found out what had happened, both towns suspended activities out of fear and uncertainty.
Sources from the Sonora Attorney General's Office confirmed, around 1:00 p.m. on Saturday, Robles had been released and was already at his house, however, the indigenous leader spent more than 10 hours deprived of his liberty.
Recently, Robles, as president of the Council of Elders and with the endorsement of a good part of the Comca'ac Nation, ignored former traditional governor Joel Barnett Morales, due to discrepancies over the management of the million-dollar resources from bighorn sheep hunting.
The Seri tribe or Comca'ac Nation are the guardians of Shark Island, the largest in Mexico, where dozens of hunters from different continents come every year for one of the greatest trophies of world hunting activity, the antlers of the shark. Rocky Mountain Sheep, scientifically named Ovis Canadensis.
Although each season bighorn sheep hunting headbands on Shark Island are auctioned for thousands of dollars at hunting conventions in the United States, generating profits of hundreds of thousands of dollars, this money has never been reflected in social development and economic of the two towns that make up the Comca'ac Nation.
In addition, that the indigenous territory has self-determination, which is why it is governed and monitored according to uses and customs, but since it is located between the coast and the deserts of Sonora and Arizona, it has always been used by organized crime groups for the smuggling of drugs into the United States.
  Source: Latinus