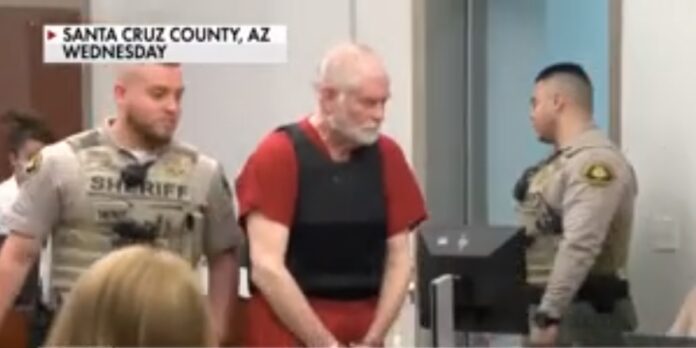 NOGALES, SONORA- A Border Patrol agent can be heard claiming to a 911 dispatcher that Arizona rancher George Alan Kelly was being "intentionally vague" regarding what happened leading up to the shooting of a Mexican national found dead on his property, according to a report citing recently released calls from that day.
Nogales International reportedly obtained several calls, which range from under 30 seconds to nearly eight minutes in length, this week regarding the Jan. 30 shooting death of a man identified as 48-year-old Gabriel Cuen Buitimea, of Nogales, Mexico, on the borderlands ranch owned by Kelly and his wife.
In one call, a U.S. Border Patrol agent tells a Santa Cruz County Sheriff's Office dispatcher that Kelly had become "intentionally vague," adding, "What [Kelly] said was, in checking his property, he believes that he possibly struck something." Minutes later, the dispatcher called Kelly directly.
"Go ahead, you can talk to me," the dispatcher told Kelly. "What's going on?"
"Yeah, I know I can talk to you," Kelly reportedly answered, "but you're responsible for what I say, and I'm responsible for what I say."
"You told them that you shot at something," the dispatcher said. "What did you shoot at?"
"I didn't shoot at, I haven't said I shot at anything," Kelly responded.
The dispatcher said she needed to know whether she was sending deputies into a dangerous scenario.
Kelly eventually said he found a dead body on the property and did not believe EMTs could help.
"And it's not alive," he said. "So you asked if you need an EMT. I said, 'No.' I'm sure a coroner will be involved sooner or later."
Several hours earlier, Kelly had called the Border Patrol Ranch Liaison to report an active shooter. In a call around 2:45 p.m., a Border Patrol agent, who identified himself as a supervisor at the Nogales Border Patrol Station, called the sheriff's office to request assistance but already cast doubt on Kelly.
"I don't know for sure that this guy's getting shot at or not," the agent said. "What sometimes happens is, some of our customers go through his property … I don't know if he's crazy, or what's going on."
"He's made this call before," the agent told the dispatcher. "It ended up just being aliens on his property. And he says the same thing. I think he's just trying to get a quicker response out there. But obviously, we've got to take it."
"[Kelly's] last statement was he thinks they were shooting at him, and he thought he heard gunshots. But then he saw people running, but he didn't see any firearms," the agent told the dispatcher. "But he's checking his ranch with his weapons to check his livestock."
"OK," the dispatcher said. "He didn't shoot back, correct?"
"No," the agent answered. "At least he's not saying he did."
Around 3 p.m., a Border Patrol agent called the sheriff's office to relay a conversation with Kelly's wife.
The agent claims Kelly's wife said the rancher was following a group of five people who had come onto their property.
"[Kelly] is currently trying to pursue them. He's chasing them south," the agent said.
Later that evening, Kelly told a sheriff's office dispatcher more about the body found.
"You know the saying, 'You have the right to remain silent, anything you can … say can and will be held against you?'" Kelly asks the dispatcher at one point.
"I'm not admitting to anything I've done," Kelly added. "But you know, all of those things tend to add up. And I don't know what happened. I just know what I just saw about 15 minutes ago. And it's something that an ambulance cannot help."
Source: Nogales International