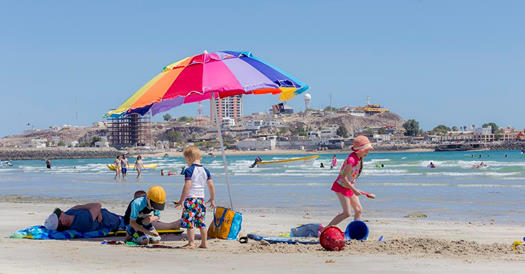 The warm summer season is here to stay and with it the desire to visit the beaches, walk on the sand, escape from the routine, as well as enjoy the beautiful sunsets and all that is offered by this corner of the Sea of ​​Cortez. .
To receive visitors in the hotels, restaurants and establishments of Puerto Peñasco, the protocols and sanitation measures with which they have worked for a whole year and that are required by the Ministry of Health and the World Health Organization remain in operation. That is why this tourist destination continues to be a "Safe Point" place to vacation.
In this summer period, Puerto Peñasco is ready to receive visitors who can enjoy the sea, the sand, and all the outdoor activities such as boat trips, all-terrain vehicles, the zip line, ultralight, the Pinacate area, and dunes.
You can also taste the gastronomy offered by the restaurants in this port, as well as visit the oyster farms, listen to live music, do water activities, and countless places to visit and fun things to do.
Could this summer be the best time to escape to enjoy the beaches of Puerto Peñasco! The only thing you are obliged to do is follow the protocols that we provide so that our city and you, our visitors, do not run health risks.
Puerto Peñasco has been and continues to be a safe place to visit because even when around 25 thousand tourists were received in the Spring Break season and 30 thousand in the Easter period, there was no significant upturn in the statistics of cases. confirmed Covid 19.
Currently, this city has an official registry of the Secretary of Health of 504 cases of Covid infections since the pandemic began, a figure that represents less than 1% of the total cases registered in the entity. 
However, the most important thing is not to lower your guard and take extreme precautions so that the holidays this summer are pleasant, but at the same time with all the responsibility that implies leaving home and visiting another city.
Plan, book and come to Puerto Peñasco, where visitors are welcomed with open arms, where we take care of you and where we bet on responsible tourism.
Visit the following link and learn the safe places to stay on your next beach getaway.