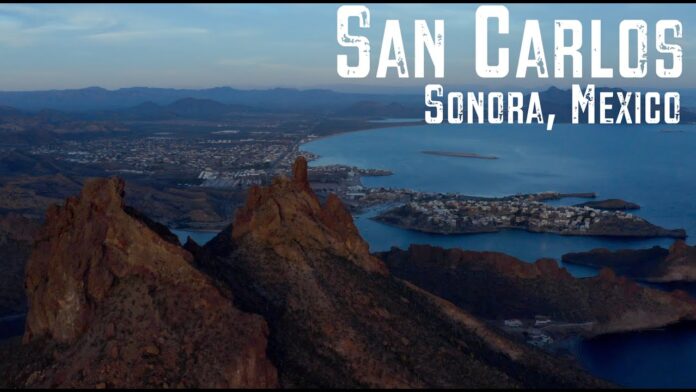 San Carlos is a beachfront subdivision within the port city of Guaymas, in the northern state of Sonora in Mexico. It is noted for the exceptional clarity and warmth of the ocean water in its shallow bays. It lies on the Sea of Cortez. Given the size of the city, with nearly 7,000 inhabitants, there is a remarkable number of RV parks, resorts, and stores. There is also a very large and active diving community.
There are also other outdoor activities like climbing, San Carlos is a beautiful place because it is an encounter of the desert with the sea, that gives life to many places to enjoy watching, like the most popular local mountain called "cerro del tetakawi", that in native Yaqui language means in English "rocky mountain", not only the mountain by itself is beautiful once it's formed with rocks and desertic vegetation, but it is also an excellent option for those who enjoy climbing and enjoying the view from the mountain top of this beautiful bay, and all the magic that surrounds it.
There are also many Americans and Canadians who live in San Carlos during the winter as the summer months are very hot and humid, much like Texas. There are many opportunities to fish, scuba dive, and relax on the beach.
San Carlos is about a six-hour drive from the United States along Mexican Interstate Highway 15.
Another popular sport in San Carlos is sailing and it is the sailing capital of Sonora.
More recently, San Carlos has been catching up as a perfect getaway for skydiving, while flying over the Sea of Cortez, the city of Guaymas as well as San Carlos too and meeting with a very wonderful view on the beachfront drop zone area.