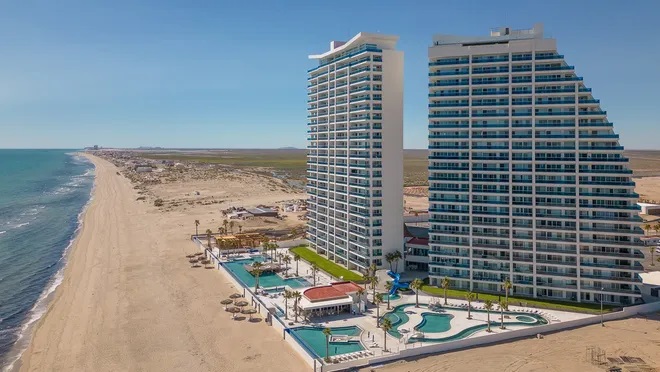 Encántame Resorts is making progress on its condominium resort on Playa Encanto near Puerto Peñasco, Mexico, also known as Rocky Point. One complex has two of its three towers open for business, while another is under construction.
Each tower houses about 100 condos. Amenities include clubhouses, pools, event centers and beach access.
At least 90% of the resort's customers are Arizonans, and most customers who come from other parts of the U.S. like Salt Lake City and Chicago find out through word of mouth from Arizonans, said Keith Allen, Encántame Resorts' director of sales.
"This is Arizona's beach," he said.
What's the current status of the Encantame Towers at Rocky Point?
Two of the three towers at the first complex, Encántame Towers, are completed: Velero and Verano. Work is in progress on the third tower, Viento. Allen told The Arizona Republic he expects those condos to be available in early 2024.
At 24 stories tall, the condo towers are the tallest buildings in Sonora, Allen said.
The second complex, Encántame Soleil, broke ground this spring. An update posted in July showed construction on the first floor was under way and a model home was completed. The first condos at Soleil will be delivered in a year and a half, Allen said.
A third development, Encántame Estates, is a subdivision of custom-built houses near the beach. It will feature paved roads and 24-hour gated security. Its first units are expected to be finished in the third quarter of 2023.
What amenities will the Encantame Towers development have?
Amenities at Encántame Towers and Encántame Soleil include clubhouses, pools, hot tubs, pool bars, lazy rivers, playgrounds and convention/event centers.
At both complexes, two towers will feature rooftop pools and the third towers will feature a rooftop restaurant. Encántame Towers' first rooftop pool opened in time for the Fourth of July weekend, Allen said. The first rooftop restaurant will open after the Viento tower is completed, he said.
Right now, Encántame Towers has one restaurant, Santo Coyote, in the Velero tower. Santo Coyote is a modern Mexican restaurant that started in Guadalajara. The burgers and wings chain Wingman is coming soon.
It's not yet known what restaurants will come to Soleil, but Allen said he's planning for a full-service, high-end rooftop restaurant.
One selling point for the condos is the on-site cafe that serves Starbucks coffee, the only place in and around Puerto Peñasco that does so, Allen said.
The clubhouses will offer yoga, meditation, massage rooms, golf simulators and game rooms, Allen said. Soleil's clubhouse will have a spa and fitness center.
Encántame Estates, the master planned community, will have its own clubhouse with a fitness pool and hot tub.
There will also be a racquet club offering pickleball and tennis.
The condo's developer is also working on building a plaza near the resort with a convenience store and other shops and facilities.
How much do Encantame Towers condos cost?
Encántame Towers prices start at about $200,000 for studios, the least expensive option.
Other options include one-, two- and three-bedroom condos, with the priciest condos being penthouses.
Why do Arizonans make up Encantame Resorts' biggest customers?
The vast majority of Encántame Resorts' customers hail from Arizona, Allen said.
That's because Puerto Peñasco is the closest beach from metro Phoenix, at 212 miles compared to at least 350 miles for the California coast.
"It's all about proximity," Allen said. "The other thing that's different about us, we're on the Sea of Cortez, it's much warmer than the Pacific Ocean."
Mexico's affordability compared to California appeals to condo owners as well. And Encántame offers newly built beachfront properties, Allen said.
All these reasons sold Olivia Christensen on Encántame Resorts.
Christensen, who grew up in Mexico City and moved to the East Valley after marrying an Arizonan, frequently visited Puerto Peñasco during the pandemic. Since buying her Encántame Towers condo, she's been there almost every weekend.
One thing that she likes about the resort is how every one-bedroom and two-bedroom condo offers a beachfront view.
"It's just great to be out there and have the views of the ocean," she said.
Much of the development in Puerto Peñasco centers around Playa Arenosa (Sandy Beach). The Encántame Towers are on Playa Encanto, a beach about 16 miles from the city center. The resort was built there because of its white sand, and Allen said the new development has sparked some to refer to Playa Encanto as "Nuevo Peñasco."
Christensen appreciates how Playa Encanto has fewer crowds than Sandy Beach
"It brings a more elevated experience to tourists, and it doesn't get crowded like a lot of other areas," she said. "You can take a morning walk and feel like you have the beach to yourself."
By Michael Salerno
Zource: AZ Central