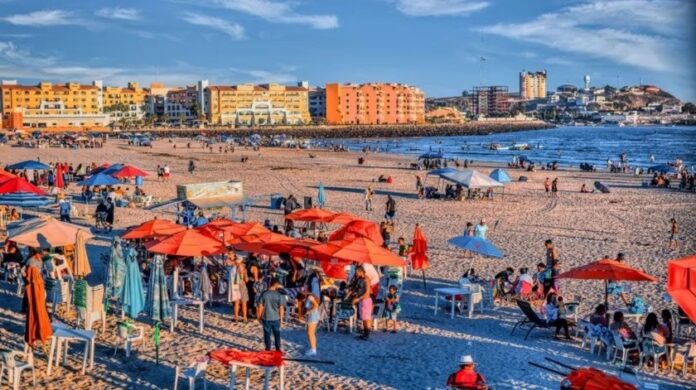 The OCV plans to reach 1.9 million visitors by the end of 2023 with an estimated revenue of 124 million dollars.
PUERTO PEÑASCO, Sonora.- This tourist destination will close very strong for the remainder of the year, projecting that 1 million 900 thousand visitors will arrive at the end of 2023, with a hotel occupancy of just over 40%, with a economic spill estimated of 124 million dollars, said Lizette Daniela Ibarra.
The director of the Convention and Visitors Bureau (OCV) of Puerto Peñasco, indicated that, from January to mid-September, of this year, around 1 million 500 thousand tourists have visited this destination.
He noted that in previous years they closed with an average of 2 million 200 thousand tourists, but in 2023, due to various factors such as the threat of economic recession in the United States, the exchange rate and the lack of greater promotion, they affected hotel occupancy a little in this port.
However, she stated, they will close the last quarter of the year with a bang with many mass events and activities that will attract many tourists, which will leave a great economic impact.
The first Real Estate Tourism Forum will be held where topics of considerable interest will be addressed, with international exponents, on real estate and real estate in the states of California and Arizona, United States, and Baja California and Sonora, also presenting demonstrations of tourist products, among others.
The director of the OCV explained that later, entering October, they will continue with a series of traditional events, such as forums, festivals, rallies, parades, various competitions, among others.
Among them are, she detailed, Columbus Day, from October 6 to 9, where Americans celebrate the day of respect for cultural diversity, while on the 14th and 15th of the same month, the second edition of the Great Desert Race, which will attract a lot of sports tourism.
Also on October 14, the first edition of the BBQ Challenge will be held, organized by American musician Roger Clyne, who will host the event live, along with other artists, among the BBQ stands. The proceeds will go to support Educarte.
Thus, added Lizette Ibarra, other events will be held such as: Second edition of the "Peñascazo Dunas Fest 2023" (off-road vehicles), from October 20 to 22 and the "Oktoberfest 2023" golf tournament on the 28th. and October 29.
Then in November they will continue with the "Day of the Dead Festival" and immediately, on the 4th, with the "Rocky Point Charanga Derby 2023", in its seventh edition and then, from the 9th to the 12th with the "Rocky Point Rally 2023", in its 22nd edition.
This traditional event harmoniously brings together thousands of motorcyclists (bikers) and other tourists, who participate in a series of related events, with music, concerts, motorcycle parades, shows and exhibitions, among others, he added at the end that during December the "Christmas Nautical Parade."
Source: El Imparcial