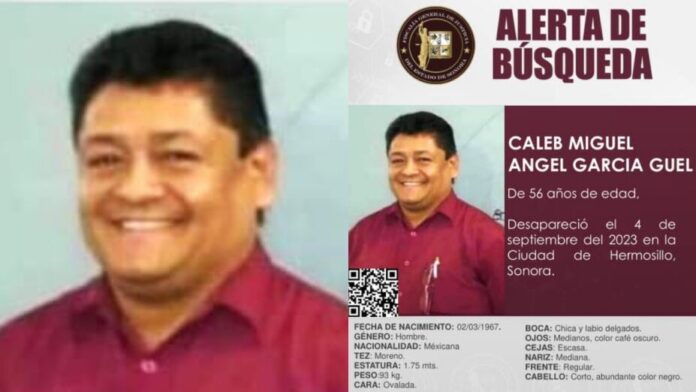 The body of Caleb Miguel Ángel García Guel, an English teacher who had been missing for more than 10 days, was found lifeless next to a drug message and with signs of violence in Ciudad Obregón, Sonora. The authorities have already opened an investigation file into the murder.
The Attorney General's Office of the State of Sonora (FGJE) reported on September 16 a lifeless body was located in the Misiones neighborhood of Ciudad Obregón, so, through fingerprint identification, it was determined that it was the English teacher, private of his freedom in Hermosillo since September 4.
On September 19, the body of Caleb Miguel Ángel García Guel – who was kidnapped – was fully identified by his relatives, so, according to the FGJE, it was already transferred to the city of Hermosillo for their funeral services.
The body of the high school teacher showed signs of violence such as gunshots and had a cardboard with a narco-message where an alleged leader of a criminal gang that operates in the region claimed responsibility for the murder of Caleb Miguel Ángel García Guel.
The Prosecutor's Office assured that based on the procedures carried out since the person disappeared, it has been proven that the illegal deprivation of liberty and his subsequent death are not linked to his actions as a high school teacher.
Therefore, the working hypothesis is revenge related to his activity as a litigator; Among other lines of investigation, work is being done on those that relate it to subjects who have contacts with criminal organizations that operate in the area; The FGJE has already opened an investigation folder.
"The Executive Committee of Section 28 of the SNTE deeply regrets the death of our colleague Prof. Caleb Miguel Ángel García Guel," reported the National Union of Education Workers (SNTE) through a statement on social networks.
Source: Publimetro