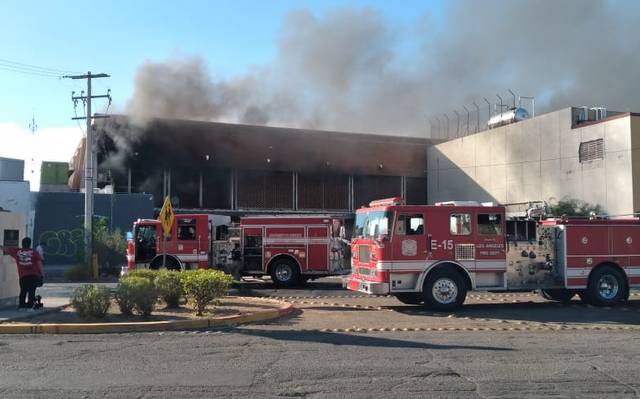 A fire in the warehouse of an abandoned shopping center, which is located on Reforma between Luis Encinas and Navarrete boulevards, generated a significant mobilization of the Hermosillo emergency department this afternoon.
Around 5:00 p.m., the fire was reported inside an abandoned shopping plaza, with a significant risk of spreading to surrounding businesses.
Personnel from the Hermosillo Fire Department moved to the area to attend to the situation, since much disused material was found inside the abandoned building, which complicates the control of the incident.
"At the moment we have evacuated two establishments that are in service, two important establishments, a restaurant, and another office supply store," said Juan Francisco Matty Ortega, chief of the Hermosillo Fire Department.
He also indicated that three fire trucks and a total of 20 elements of the fire department arrived at the site, as well as a couple of water pipes to put out the fire.
"A lot of combustible material is involved, we hope we can have a little less smoke, but we must first get to the point where the fire is, and make sure that we have it under control," he added.
However, so far, the cause of the accident is unknown, although the site is recognized for serving as a shelter for people living on the street, so the possibilities range from an alleged short circuit to a fire caused by a person.
 Source: El Sol de Hermosillo