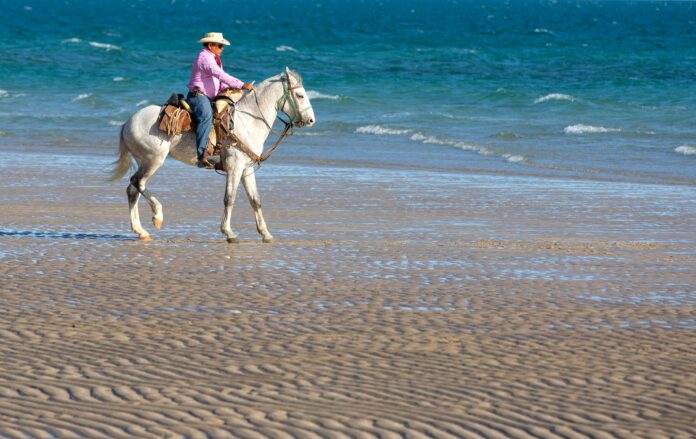 Puerto Peñasco, a small beach city in Sonora, Mexico, that's also known as Rocky Point, is a popular getaway for Arizonans. It's the closest beach to Arizona, about 213 miles from metro Phoenix — a little more than half the distance of a road trip to San Diego or Los Angeles.
It's not hard to plan a trip to Puerto Peñasco. You just need the proper documentation to legally cross the border, as well as to follow prudent safety precautions.
Driving is the most common way people travel to Puerto Peñasco, according to the city's convention and visitors bureau. Here's everything you need to know about driving to Mexico, including passport requirements, car insurance and driving tips.
Global travel:Phoenix-based app helps international travelers know safe areas to stay, eat, hail a taxi
Is it safe to travel to Rocky Point, Mexico?
Federal Highway 8, which leads to Puerto Peñasco, was designated a "safety corridor" by Arizona and Sonora officials in 2016. Bilingual signs, security cameras and locations where drivers can seek roadside assistance are among the measures aimed at improving safety in the area.
But motorists should still be cautious.
The U.S. Department of State currently has in place a Level 3 travel advisory, which means reconsider travel, for the entire state of Sonora. Drug cartels and human trafficking networks are known to operate in Sonora, according to the State Department.
What are the rules for going to Rocky Point, Mexico?
The State Department advises people to cross the border via the Lukeville-Sonoyta port of entry, keep to Federal Highway 8 and travel daytime hours.
The Lukeville-Sonoyta crossing is open from 6 a.m. to 8 p.m. daily, according to U.S. Customs and Border Protection. To get there from central Phoenix, head west on Interstate 10 and take Exit 112 for State Route 85 south. Continue through Gila Bend, Ajo and Why to get to the Lukeville crossing.
Posted speed limits along Federal Highway 8 to Puerto Peñasco range from 40 to 90 kilometers per hour, or 25 to 55 mph. Observe all traffic laws. Enforcement is intense.
Drive especially carefully and mind your speed in Sonoyta, just inside the Mexican border. Watch for stop signs (alto in Spanish) and expect to encounter people who want to wash your windshield or ask for donations that are said to bless your trip. Just slow down and wave if you don't want to contribute.
New routes to Mexico included:Phoenix flyers have more international options than before the pandemic
What are the passport requirements for Puerto Peñasco?
Passports are required to enter Mexico and re-enter the United States.
You can use a passport book or a passport card to enter Puerto Peñasco by car and return to the U.S. Here's the difference between a passport book and a passport card:
Passport books are good for all forms of international transportation. They cost $130 plus a $35 application fee.
Passport cards are cheaper — $30 plus a $35 application fee. But they are only valid for land and sea entry to Canada, Mexico, Bermuda and Caribbean countries. They are not valid for international air travel.
Do children need a passport to go to Mexico?
Yes. Each member of your group must have a passport, including children, according to the website of the Mexican embassy in the United States. To find out how to apply for passports for minors, go to https://travel.state.gov.
Do you need Mexican car insurance for Rocky Point?
Yes. Most U.S. insurance policies won't cover issues in Mexico, so you'll need to buy a policy. It's worthwhile to spend a few minutes comparison shopping.
Many insurers, including Mexpro, AAA, Geico and Progressive, offer policies for driving in Mexico that you can buy online in advance. Prices are based on the value of your car, your travel dates and the type and amount of coverage.
You also can buy a Mexican insurance policy in towns along the way, including Gila Bend and Ajo. Old West Mexico Insurance in Ajo recently offered a quote of $125.25 for liability-only coverage and $160.35 for full coverage for a sedan for five days.
What happens if I get pulled over when driving in Mexico?
Similar to traffic stops in the U.S., drivers should remain calm and show their proof of insurance. (This is why you bought that Mexican insurance policy.)
If an officer decides to give you a ticket, politely ask for a written citation that can be paid by mail or at the police station, according to Progressive. Don't offer cash to the officer.
Also, be sure to record the time and location of the incident, the police vehicle identification number and the police officer's badge number before leaving the scene, according to Progressive.
Where to buy gas: Arizona or Mexico?
Why, Arizona, has the last gas station and toilets before the border, which is worth noting if you're traveling at a busy time and are likely to encounter long lines to enter Mexico. The Why gas station is open every day except Thanksgiving and Christmas.
In Mexico the gas stations are attended, meaning they pump your gas for you. Look to make sure the gas pump is reset to zero before the attendant starts pumping.
Most take cash (dollars or pesos) or card. The gas stations with services like restrooms and a minimart clearly mark that on their signs. At the time of publication, gas is a bit cheaper there than in the U.S. but it's usually about the same price.
What do border patrol checkpoints check for?
When driving to Rocky Point, watch for border patrol immigration checkpoints along your route. U.S. Customs and Border Protection agents maintain both stationary and temporary checkpoints in areas near the border.
Approach slowly, keep your hands in view and be prepared to answer questions about citizenship status and other matters.
Arizona Republic Dining Editor Felicia Campbell contributed to this article.
Reach the reporter at [email protected]. Follow him on Twitter @salerno_phx.
Source AZ Central