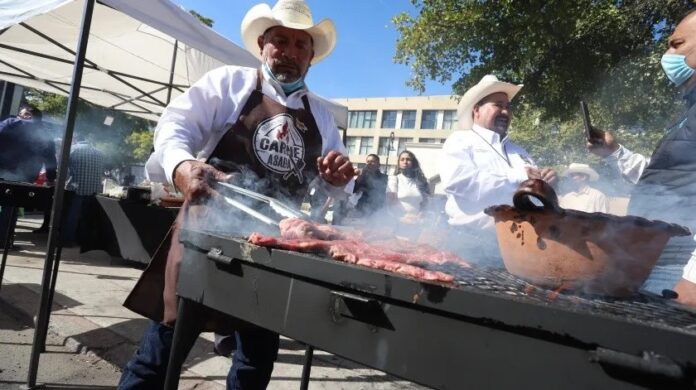 HERMOSILLO, Sonora.-The city of Hermosillo intends today to conquer the Guinness Record with the largest roast beef in the world on Hidalgo Boulevard.
Miguel Ángel Figueroa Gallegos, president of the FUSADAR foundation (Sonoran Foundation for the support of High-Performance Sports) indicated that in addition to breaking a world record, it is to help Sonoran athletes.
We give them scholarships that range from five to ten thousand pesos a month, and that is why this event is for them, it is for them to continue making an effort and worry as little as possible to see how to buy their accessories", he expressed.
There are about 1,200 grills that are located on Hidalgo Boulevard that will seek to break the Guinness Record held by Canada, which was achieved by bringing together 950 grillers.
In each spit there are two grillers who have four kilos of meat, coal, apron and a cap. In addition, the participants will donate 10,000 tacos to charitable institutions.
Miguel Ángel Figueroa recalled that Hermosillo has already had two Guinness records related to meat, the first was for remote roasting meat that was broken in 2007, and in 2015 it was the one for the highest number of tacos.
ACTIVITIES
09:30 a.m. Opening of the venue and delivery of kits.
12:00 p.m. They will give instructions to break the record.
12:30 p.m. Coal ignition.
12:50 p.m. Lit coal review.
1:00 p.m. The two grillers must remain on the grill for 5 minutes.
1:05 p.m. Record verification by Guinness adjudicator.
1:30 p.m. Family and friends may enter as directed.
Source: El Imparcial