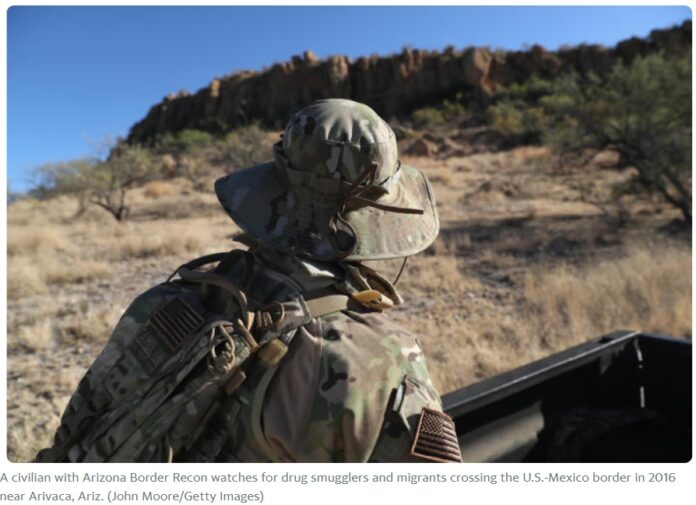 NOGALES, SONORA.- As lawmakers and civil rights groups sound the alarm about civilian militias operating along the southern border, a new report reveals that several such groups are actively using Facebook to promote their activities, recruit volunteers for border "operations" and even solicit donations — in apparent violation of the platform's policies.
The report, which was shared exclusively with Yahoo News ahead of its publication on Thursday, is part of a series of investigations by the Tech Transparency Project (TTP), an industry watchdog that looks at misinformation targeting migrants on social media. Earlier reports in the series found that Facebook is a primary source for much of the harmful misinformation that migrants encounter along their journey to the U.S.
"Our new findings show that Facebook is creating even more dangers for migrants by hosting armed border militias driven by fringe conspiracies," the new report concludes.
In an emailed statement to Yahoo News ahead of the report's publication, a spokesperson for Meta, Facebook's parent company, said, "We will review this report as soon as we receive it and will remove any groups that we find to be in violation of our policies."
In August 2020, Meta announced that it was updating its Dangerous Individuals and Organizations policy to crack down on "Facebook Pages, Groups and Instagram accounts tied to offline anarchist groups that support violent acts amidst protests, U.S.-based militia organizations and QAnon."
Since then, the social media giant says that as of Aug. 15, 2022, it had "identified over 1,151 militarized social movements to date and in total, removed about 4,200 Pages, 20,800 groups, 200 events, 59,800 Facebook profiles, and 8,900 Instagram accounts."
But researchers at TTP say they found dozens of border militias currently active on Facebook. Their report singles out three groups in particular whose activities, they argue, appear to clearly violate Facebook's policy.
Source.- Excelsior