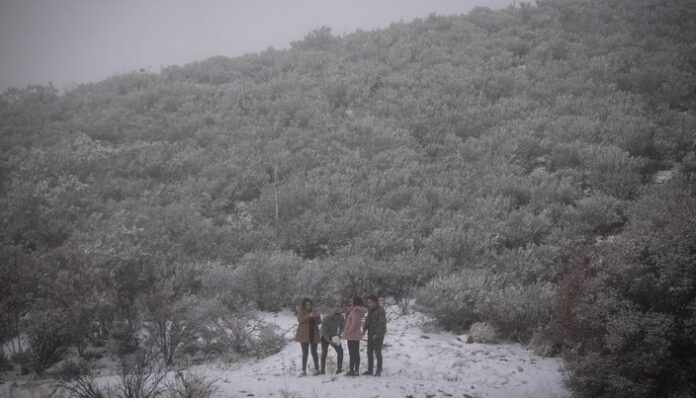 The third winter storm of the season creates the conditions for snow to fall in the north of the country. Know which entities will be affected.
Cold front 25 arrived in Mexico on Wednesday, January 18th, with the third winter storm of the season, which brings with it the possibility of snowfall in the north of the country, according to the National Water Commission (Conagua).
In the report of the National Meteorological Service (SNM) for this Wednesday, the Conagua indicates that the winter storm that will occur in Mexico generates the conditions for the fall of snow or sleet, a phenomenon that is not very common in different states of the country, coupled with to rain, strong gusts of wind and dust storms.
These weather conditions will last until the weekend, and the times when the lowest temperatures are expected are in the morning.
In which states can it snow this week?
Conagua points out that the entities exposed to falling snow or sleet are:
 Sonora: Wednesday, January 18.
 Chihuahua: Wednesday, January 18.
 Baja California: From Thursday 19 to Sunday 22 January.
The snowfall will be mainly in mountainous regions. The three entities, together with Durango, expect frost in the morning, with temperatures of -10 to -5 degrees Celsius between 4:00 and 7:00 hours.
In addition to the cold front 25, a high-pressure system will reach the Gulf of Mexico, causing wind gusts of up to 70 kilometers per hour in the Isthmus of Tehuantepec, Tamaulipas, Veracruz, and Tabasco.
The Yucatan peninsula will be affected by rains thanks to the entry of moisture into the Pacific Ocean and the Caribbean Sea, affecting Quintana Roo, Chiapas, and Oaxaca.
Risks of winter storms:
Unlike the alerts that are issued due to rain or environmental contingencies due to poor air quality, with winter storms a notice is issued 12 to 24 hours in advance, with the aim of people taking precautions to avoid damage to your health or accidents.
Winter storms claim lives due to their intensity, as well as in some cases causing serious damage to health:
 Hypothermia (drop in body temperature).
 Mutilation of some body tissues due to cold, such as the skin, fingers and extremities.
 Both hypothermia and freezing of body tissues can cause death.
How to prevent a winter storm?
 Avoid going out on the road, if possible. If you find yourself trapped in your car, stay inside.
 Limit your time outdoors. If you need to go out, then wear several layers of warm clothing.
 Be alert for signs of frostbite and hypothermia.
 Reduces the risk of heart attack by avoiding excessive exhaustion when shoveling snow and walking on snow.
Source: Conagua