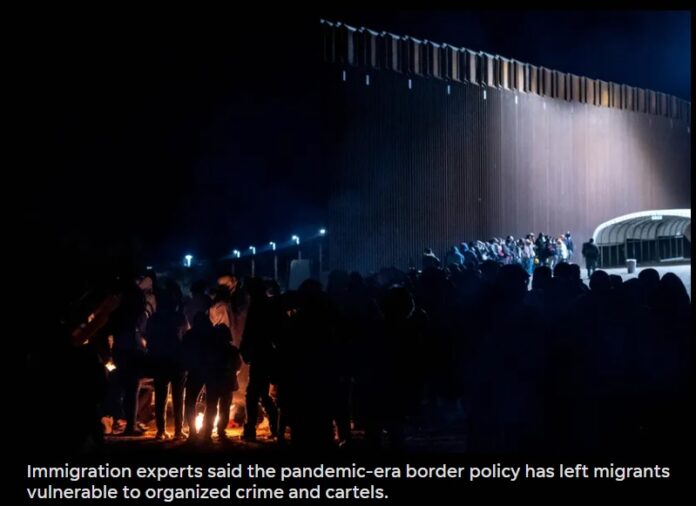 COCOPAH RESERVATION, ARIZONA. — The fingers of the smoldering flame snapped and flickered before the eyes of Luis Manuel Matos Alcantara as he stood shoulder to shoulder with a dozen other migrants, all confronting the dark, bitterly cold morning on the Cocopah Reservation near Yuma.
The group clustered around the warmth of the bonfire they had built, composed of stray twigs and debris, as they idled in a winding line of nearly 500 asylum-seeking migrants waiting to be processed by Border Patrol on a recent morning.
Alcantara, a Dominican Republic native, wore only a hoodie to protect him from the frigid temperatures as he stood in front of metal X-shaped Normandy vehicle barriers delineating the Arizona-Mexico border on the reservation. As he moved forward in line and toward another glowing hearth, Alcantara was overshadowed by the 30-foot maroon border wall that abruptly appeared at the end of the reservation.
Alcantara, now within sight of a U.S. haven, had nearly been kidnapped only 24 hours before he stood by the fire.
The kidnappers, often affiliated with Mexico's violent drug cartels, raided a bus Alcantara was riding in northern Mexico and searched everyone aboard, robbing them of all valuables and taking any migrants, not from Mexico outside.
As Alcantara and a handful of migrants waited near the bus, Alcantara leaped into the brush off the side of the road, shredding his clothes as he tumbled down a gully.
The men shined their lights toward the brush, attempting to find Alcantara as he fled into the mountains and found his way to the Arizona-Mexico border, he said.
"I was very afraid for my life," Alcantara said. "I was going to freeze to death because my clothes ripped and everything."
A handful of his remaining friends were taken by the men, joining thousands of other victims of criminal organizations who prey upon vulnerable migrants during their journeys to the U.S. and as they're marooned in Mexico.
Trump-era border restrictions, which have forced some asylum-seeking migrants to wait in Mexico for nearly four years, have fueled the lucrative profits of cartels and smugglers who have capitalized on the immense migrant population in the country, experts say.
Criminal organizations have exploited unprotected migrants who were expelled from the U.S. under Title 42, the pandemic-era border restriction, and others awaiting their immigration court hearing under the "Remain in Mexico" program, formally known as Migrant Protection Protocols.
Under the policies, thousands of migrants have become stranded in Mexico with no protection from either U.S. or Mexican authorities as cartels have increased their involvement in migrant smuggling over the past decade, transforming the operation into a multibillion-dollar enterprise.
Click here to read the complete original article on AZ Central
Source.- AZ Central