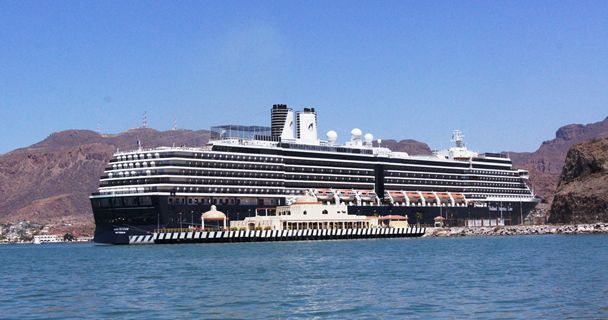 The reception of MS Zuiderdam in the port of Sonora is scheduled for December 28
The port of Guaymas is preparing to receive the cruise ship "MS Zuiderdam" , from the Holland America Line company, scheduled for December 28 at 8:00 am.
The ship, considered one of the largest in the shipping company, will leave San Diego, California, United States on December 23 to take a tour of the Sea of ​​Cortez, according to information from the Administration of the National Port System of Guaymas, before Apiguay.
The boat with a capacity for 1,848 passengers and 842 crew members in 10 days will travel through Cabo San Lucas, Pichilingue (La Paz), and Loreto, in Baja California Sur; Guaymas Sonora; Topolobampo and Mazatlán, Sinaloa, before returning to San Diego, California on January 2.
It is the first time that the ship "MS Zuiderdam" will arrive on the shores of Sonora, where it will remain docked for about nine hours at the International Cruise Center so that the more than 1,600 tourists who travel on board can visit the attractions of the municipality.
In this way, the activity of the Guaymas cruise terminal is resumed, which in October 2008 received the first ship "Ryndam" from the Holland America company, which docked with 1,400 passengers.
They prepare arrival of cruise in Guaymas
For the reception of the cruise ship MS Zuiderdam, on December 28, in Guaymas, the port authorities indicate that they will seek that the tourists who will arrive feel the warmth of the Guaymenses.
Due to the Covid-19 pandemic, the participation of the Fine Arts Marching Band has not been confirmed, which since 2008 has been in charge of receiving and saying goodbye to passengers and crew members of tourist ships, sources from the port authorities indicated.
They are looking for other options, they said, to give them a good reception as has been done on previous occasions.
After the arrival of the cruise ship MS Zuiderdam, this month, the port area has no confirmed new arrival dates for 2022, but it is already working in coordination with state authorities to ensure that they return in 2023, sources said.
GUAYMAS STOP
Characteristics of the MS Zuiderman cruise that will arrive this month in Guaymas:
Operator: Holland America Line.
Port of registry: Flag of the Netherlands Rotterdam.
Built: Fincantieri Shipyard, Marghera, Italy
Launched: December 14, 2011.
Assigned Nov 15, 2021.
Length: 291 meters.
Beam: 32 meters.
Draft: 7.80 meters
Decks: 11 for passengers
Crew: 842
Capacity: 1,948 passengers.