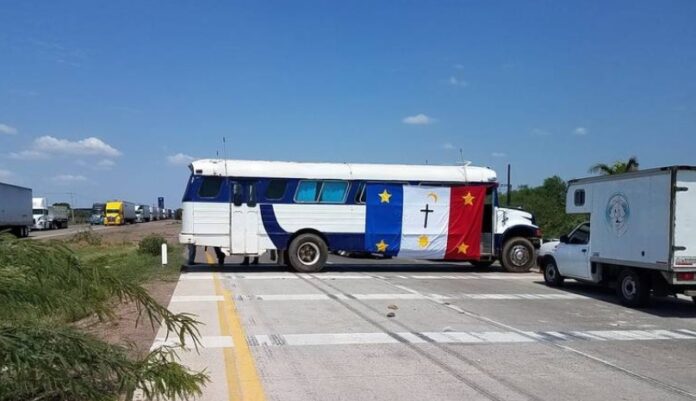 The Yaqui indigenous people blockade in the town of Loma de Guamúchil, which runs along the Mexico 15 international highway, now has the support of agents of the Municipal Police of Cajeme, Sonora.
In a video disseminated by social networks, a driver and his companion are observed passing through this section of the road, but he refused to stop the "quota" requested by the protesters of the Yaqui ethnic group who maintain an intermittent blockade from the last year.
However, in the video, you can see how two Cajeme Municipal Police officers hit the driver's window when he tries to leave. He advances, but a patrol unit blocks his way.
De no creerse… Increíble. pic.twitter.com/XaX7chWC9R

— Ομαρ Αλι (@oalh) December 17, 2021
The video provoked claims from citizens for this event, which is not something new, and during these dates, more travelers pass through this illegal checkpoint on the federal highway.
Given this, municipal authorities announced that they took action on the matter. Mayor Javier Lamarque Cano reported that the agent who appeared on camera was arrested in order to initiate an administrative process.
"Regarding the case of the police officer who acted irregularly in Loma de Guamúchil, last night as soon as I found out I spoke with the Commissioner to take measures and investigate the situation, later he informed me that the unit was withdrawn, the agent was arrested, suspended, and his case was turned over to the Honor and Justice Commission, so that the corresponding sanctions are applied, we are not going to allow any irregular action by police officers, "explained the municipal president in a message through his official accounts.
The affected driver recorded with his cell phone the moment that the corporation's own agent blocked his way, in support of the members of the Yaqui tribe, on Federal Highway Mexico 15 in Loma de Guamúchil.
Despite the agreements reached by the Yaqui ethnic group with the government of Andrés Manuel López Obrador, protests continue in one of the eight towns, that of Loma de Guamúchil.
Source: OEM