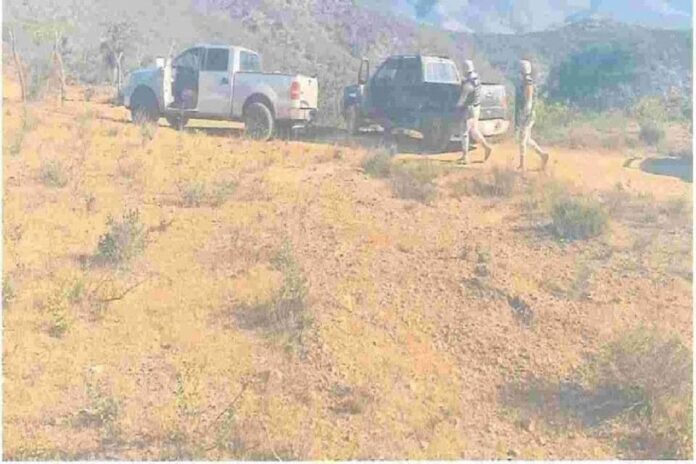 SONORA: The armed confrontation took place around 5:50 am this Friday at the Francisco Márquez police station, when the military agents were guarding the area and were surprised by groups of armed men who immediately fired their weapons against the uniformed men.
The Salazar Cartel, a criminal cell close to the Sinaloa Cartel (CDS) specifically Los Chapitos, sons of Joaquín "el Chapo" Guzmán, attacked and killed a Mexican soldier.
A violent or armed attack was registered in Sonora on the dirt road between the Graciano Sánchez and Guadalupe Victoria ejidos, right in front of the "El Arenoso" field, which is part of the Francisco Márquez Police Station. It was learned that two military units were patrolling the road that connects the Graciano Sánchez and Guadalupe Victoria ejidos, when they were attacked by the armed group and thus an exchange began.
Unfortunately, one of the soldiers was injured, in a rapid unit of the SEDENA they began their transfer to Guaymas, and then they were transferred to a Red Cross ambulance, which found them on the way, to continue the route to the Naval Military Hospital. but unfortunately, it died on the way.
The 32-year-old member of the military forces, originally from Huatabampo, Sonora, was hit by a high-powered projectile, which caused abundant bleeding and later his death. The case was notified to the State Attorney General's Office for legal proceedings.
Likewise, it was learned of an intense operation that is being carried out in the Guaymas Valley – Empalme, by personnel of the Secretariat of National Defense, (SEDENA), supported by personnel of the National Guard and of the Secretariat of Navy-Navy of Mexico (SEMAR), in search of other criminal cells that attacked the military.
Cartels have been involved in several armed confrontations in municipalities such as Magdalena de Kino, Ímuris, Santa Ana, and Sasabe.
Source: jornada.com.mx, laopinion.com