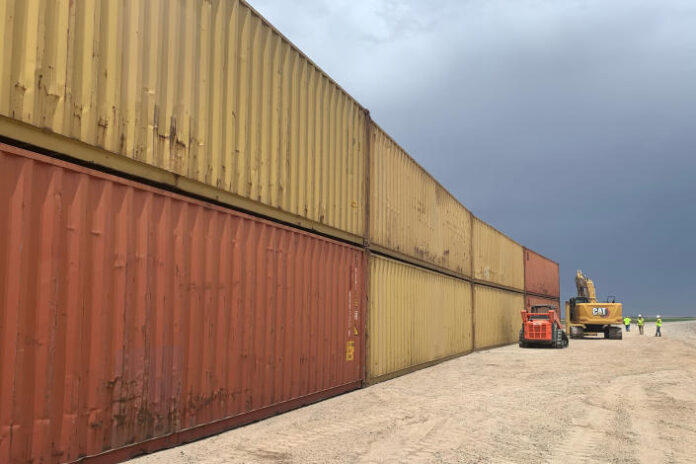 SAN LUIS RIO COLORADO, SONORA.- Former Arizona Gov. Doug Ducey's five-month effort to close gaps along the U.S.-Mexico border with shipping containers will cost Arizona taxpayers more than $200 million when all is said and done.
The effort, which aimed to fill holes in border fencing along the southern U.S. border, is being torn down after Ducey bowed to federal pressure and agreed to remove the makeshift barriers in late December. Contracts and projections shed light on a $200 million effort from the initial construction of the barrier to the costs of tearing it down and moving the containers.
It will cost more than $76 million to tear down the double-stacked shipping container barriers in Yuma and Cochise counties. The bill to remove the containers was first reported by Capitol Media Services. It's set to cost another $57.2 million to take down the shipping containers in the Coronado National Forest in Cochise County, according to state contracts with the Florida-based emergency management company AshBritt.
The tear-down costs come on top of the initial $95 million announced for the barrier's construction in Cochise County.
On top of that, separate costs to move shipping containers from a Sierra Vista staging area to Tucson are projected at about $9.8 million.
In August, Ducey began filling border wall gaps near Yuma, where roughly 3,000 feet were plugged with shipping containers. The project was projected to cost $6 million, but ballooned to nearly $13 million as of September, according to Ducey's office.
It will cost roughly $9.3 million to take down the containers near Yuma. Additionally, work and transportation costs associated with Nogales-area shipping containers are estimated to ring up to about $20.5 million, per state contract.
Ducey's order led to a patchwork barrier of hundreds of hulking metal shipping containers dotting the Arizona-Mexico border, sometimes welded together with odd-shaped pieces of metal.
Source: Tribuna de San Luis