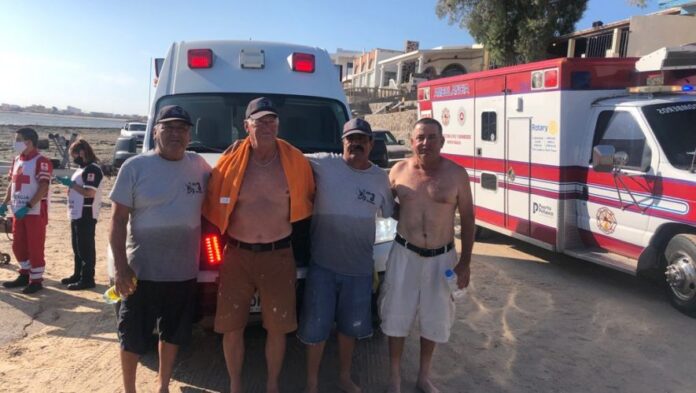 A small fishing boat with four local fishermen aboard succumbed to strong waves this past week, toppling the vessel and sending the men into the sea. The shipwrecked fishermen managed to swim to shore, where they were rescued safe and sound.
After their small fishing panga sank on Monday morning, fisherman José Ramón Orozco Rodríguez, Thomas Scribner, Francisco León Pérez, and Julio Guadalupe Félix swam to the coast on July 26th, where they spent the night while coyotes lurked in the distance.
Alan Ontiveros López, Civil Protection and Fire Coordinator detailed the men had departed from the area of La Choya aboard the "Gema Zuleth" at approximately 6 a.m. on Monday and should have returned by 5 p.m. that evening. When they didn't, at around 9 p.m. family members reported the lost fishermen.  The Navy and Harbor Master, along with a private boat, launched a search and rescue mission to the area 22 to 26 miles from the port where the fishermen had gone fishing.
On Tuesday, a 4:00 a.m. land search came up with favorable results as the shipwrecked men were spotted on the coast around 6:00 a.m.
According to the fishermen, explained Ontiveros López, at about 9 a.m. on Monday, their boat began taking on water in its engine. When they tried to bail out the water, waves won over and the boat sank. With two life jackets on board, and an ice chest, the men managed to make a nearly 11-hour swim to shore!
Once the fishermen were found on Tuesday morning, they were seen by paramedics from Civil Protection and Fire, as well as the Red Cross. They did not appear to have suffered any injuries and were in general good health, though exhausted and startled at what they had just gone through.
Gratefully there was no human loss from this incident, though Ontiveros López stressed the importance of ensuring anyone headed out to sea does so under due protocols and with the appropriate equipment to help minimize risk and, in extreme cases, enable assistance for rescue efforts.
Source: rockypoint360.com