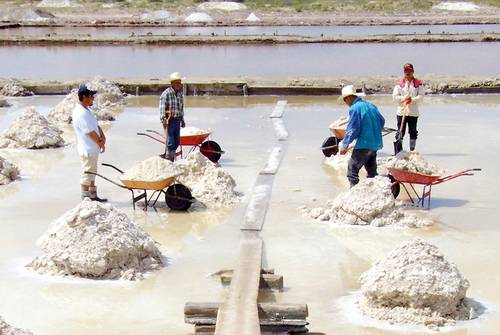 According to estimates from the Mexican Geological Service (SGM), there are lithium deposits in locations in at least 18 states of the country, that is, in more than half of the Mexican entities, it is possible to find this mineral called to be the oil of the future by its importance in the mobility of electric cars.
Data from the government agency indicates that the states that have a presence of this mineral are Chiapas, Chihuahua, Coahuila, Durango, Guanajuato, Hidalgo, Jalisco, Michoacán, Morelos, Nuevo León, Oaxaca, Puebla, San Luis Potosí, Sinaloa, Sonora, Tamaulipas. , Veracruz and Zacatecas.
Last week, President Andrés Manuel López Obrador confirmed that a national company will be created for the exploitation of lithium, this is because it is not a mineral-like gold, silver, or copper, but rather a strategic resource, such as oil has been for decades.
The foregoing is added to previous statements made by Flor de María Harp, director of the SGM, and Rocío Nahle, head of the Secretary of Energy, regarding a state company for said purposes. She even highlighted on that occasion that: the creation of a mining company is not that complicated, what's the joke?
Last October, the director of the SGM revealed that the government would invest 55 million pesos in lithium exploration over the next two years, with a view to finding an economically viable deposit in one of the locations where the agency has found a presence. .
Part of these resources was approved for this year, since in the 2022 Federation Expenditure Budget an amount of 34 million 12 thousand 680 pesos is recorded, labeled for the study of 82 locations with lithium in Mexico to define if they are economically viable. This figure represents more than half of the total resources approved for the Mexican Geological Service.
According to data from the SGM, Sonora is the entity in the country with the largest number of localities with the presence of lithium, given that there are 13. Among them is Bacadéhuachi, where Bacanora Lithium controls the site with the greatest potential in the country.
The Sonora Project has been cataloged as the deposit with the largest reserves in the world, and according to Bacanora estimates, in its first stage of production, it will generate 15 thousand tons of lithium per year, while in a second it will reach 35 thousand tons annual.
The other states with the largest localities where lithium has been located are Puebla, with 12; followed by Oaxaca (nine), Nuevo León (eight), Durango (seven), Chihuahua (five), Tamaulipas (five), Coahuila (three), Guanajuato (three), Hidalgo (three), Jalisco (three), San Luis Potosí (three ), Zacatecas (three), Chiapas (one), Michoacán (one), Morelos (one), Sinaloa (one) and Veracruz (one).
Source: jornada.com.mx