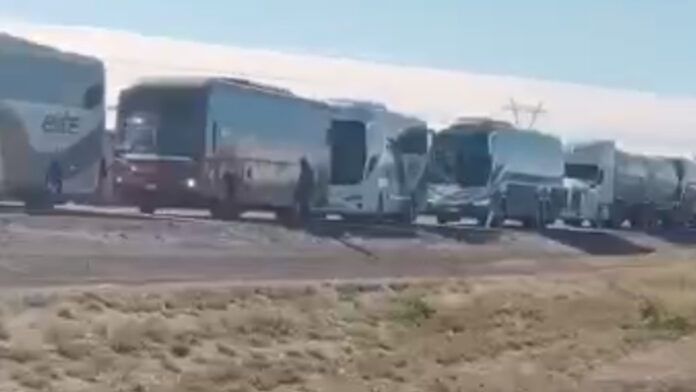 Querobabi, Sonora.- A total disorder was generated Monday morning at the military checkpoint in the community of Querobabi, Sonora, where about 500 passengers buses and cargo trucks had to wait until Five hours to be inspected, but the exhaustion of the people on board and the drivers of small units, they began to jump the checkpoint, invading the lane from north to south, and to be able to continue along to their destinations, as detailed by Carlos Verduzco, driver of one of the motor transport lines.
"what a mess, more than 500 buses lining up, got out of control, the people where upset with the soldiers, they see that there are people who are sick with diabetes, hypertension, and hungry tired of waiting thats when the riot broke out. "
The passenger bus driver detailed that most of the small units that managed to evade the checkpoint are of countrymen who are going back to the United States, as are the majority of the passengers of the buses, which are practically full, a situation that the military cares little.
"And then all the buses broke the line, they jumped over the checkpoint and only the checkpoint was left, what happens is that the military is in a hurry that, if someone comes sick, what they want to review and very slowly , and only two lanes running, when there are four, the other two closed, that easy. " 
Carlos Verduzco, who covered the route from Mazatlán to Nogales, detailed that this type of problem is not being faced at the military checkpoint located in the El Desengaño ejido, El Carrizo valley.
Source: losnoticieristas.com