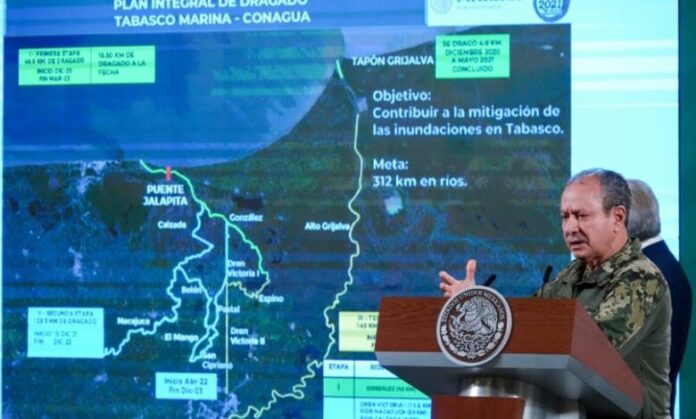 The Secretary of the Navy, Rafael Ojeda, responsible for the works to prevent new floods in Tabasco, pointed out that the objective is to achieve self-sufficiency of dredgers, for which the construction of this equipment has already begun in Mexican shipyards, for all the ports of the country. .
Ojeda Durán highlighted that the Federal Government foresees a saving of approximately 70% in the cost of the dredging system by 2023
At the morning press conference in the National Palace, he presented a report on the comprehensive dredging plan in Tabasco, including the works to build the dredges in Mexico.
As a result of the floods in Tabasco, last year, the President instructed different agencies to de-silt the rivers.
Admiral Ojeda pointed out that in past administrations, the Secretary of Communications and Transportation spent more than 1,300 million pesos each year to buy these materials.
The proposal now is that in 2023 Mexico will not have the need to import these materials.
He said that for now it was necessary to buy some to remove a plug in the Grijalva River.
Currently, there are seven dredges that are in the González River, which will be there until mid-2023.
Six amphibious dredgers were also purchased, of which two have already arrived.
Five of all kinds are currently being placed.
He highlighted the acquisition of a 90-meter-long and 15-meter-wide self-propelled dredge of the latest generation, and like this one, Mexico will produce five of the same to operate in Salina Cruz Oaxaca, in Tampico Tamaulipas, and Sonora.
We are going to have 10 self-propelled dredgers in the Mexican state that will be used to maintain the ports and they are also dredging for maintenance and construction, so we will be able to do many things with everything that is being done ", explained Rafael Ojeda Durán, Secretary of the Navy.
Ojeda Durán highlighted that by 2023, the Federal Government foresees a saving of approximately 70% since the only thing that will be required will be fuel and resources for the maintenance of the dredgers.