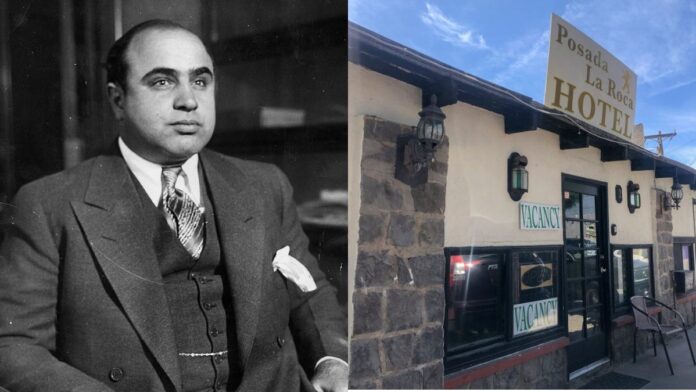 Legend says that the alcohol smuggler Al Capone had a hideout in Puerto Peñasco, the Marine Club, today Hotel Posada La Roca
Those were the years of the prohibition of alcoholic beverages in the United States, which lasted from 1920 to 1933 throughout its territory. Also, it was the time of the kings of the smuggling of the precious liquor, among them, Alphonse Gabriel Capone, better known as Al Capone.
There are several myths about his time in Mexico, perhaps one of the least known about him tells that he was a visitor to a casino hotel located in Puerto Peñasco, Sonora, called the Marine Club.
Puerto Peñasco, the paradise for the neighbors of the north in the 20th century
The story goes that thanks to the North American Prohibition Law, tourism for the inhabitants of that country flourished in Puerto Peñasco in the twenties of the last century; and two Americans named John Stone and Sofus Jhanssen came from Arizona in 1927 to open a casino hotel where they could sell alcohol to other Americans.
In fact, it is said that the Marine Club hotel was built with stones from the rock; it had a large games room and ten rooms with a long corridor, in a layout that made it easy to see who was going in and out of the building.
Also, at that time Stone and Jhanssen transported their clients in small planes that they piloted from Phoenix and Tucson; and tourists, in addition to drinking, could play and "fish", although it seems that the latter was just a pretext because the boats transported barrels of alcohol brought from Guaymas that later crossed to Arizona.
Al Capone flees from US justice
Later, in 1928, Al Capone, considered Chicago's public enemy number one, in one of his many escapes from American justice, fled to Sonora and hid in the Marine Club, right in room number 10, since it had two doors, in case he needed to elope.
Finally, it is said that the mobster, one of the most wanted in the FBI, visited the Marine Club several times until his capture in 1931, when he was imprisoned and sentenced to 11 years in prison in Alcatraz.
The Hotel Posada La Roca, currently
When Prohibition ended in 1933, John Stone left the Marine Club and is said to have set the hotel on fire before leaving to collect the insurance.
There are historical records of the fire and of the stone structure that survived, which was bought by Benjamín Bustamante and his wife, who fixed the place to transform it into the Hotel Peñasco.
Finally, today the hotel remains standing, near the old port and the city boardwalk, and is considered the oldest accommodation in Puerto Peñasco. In 1998 it was remodeled and in 2000 it opened its doors again under the name of Hotel Posada La Roca.
Source: Mexico Desconocido