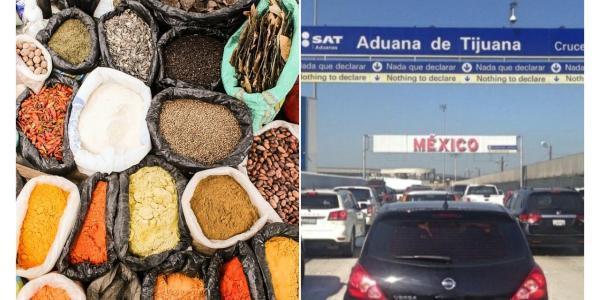 If you regularly cross the border, know what items are prohibited from entering the country.
After more than 19 months since the restrictions on non-essential travel to the United States came into force, border crossings will finally resume November 8, eliminating said restrictions for Mexican tourists who are fully vaccinated, and who also present their certificate or official proof of vaccination.
Thousands of people cross the border between Tijuana and the United States daily, however, what many Tijuanans or Americans who come to visit our country do not know is that there is a large number of articles and products that are not allowed when entering Mexico.
This information will be of particular interest to Tijuana residents who used to run their errands in San Diego and who plan to resume said activity before the border reopening.
As issued by the National Service for Agrifood Health, Safety and Quality (SENASICA) in October 2021, these are some of the products prohibited to enter the Mexican country when crossing the border.
These are the items that you cannot bring to Mexico:
Vegetable origin
Earth or soil.
Vessels or articles with content of vegetable or unknown origin.
The tourist entry of the products listed below is prohibited if the importer does not meet the requirements described in the following link. https://sistemasssl.senasica.gob.mx/mcrfi/
Propagative material (seeds, bulbs, cuttings, buds, cuttings, etc.)
Flowers, plants, seedlings In Vitro, vegetables and fresh fruits.
Grains (corn, beans, rice, quinoa, wheat, sesame, sunflower, beans, lentils, etc.)
Coffee and green tobacco.
Fresh chestnuts.
Animal origin
Balanced food for any species (except for dogs and cats).
Balanced food for dogs and cats with beef, sheep and goats.
Fresh meat of any kind.
Containers with animals, animal remains (blood, feathers, bones, offal, others).
Any animal species (except cats and dogs) regulated.
Clothing with animal bones, skin and feathers, carved or polished horn or bone handicrafts, when presented with blood or any other propagative material of diseases or pests. Entry is allowed when the presence of the aforementioned materials is discarded and it is verified that it is a product whose characteristics do not represent a health risk.
Clothing and accessories for bullfighters, charrería and bull riding, when it presents blood or remains of animal tissues; Their entry is allowed when they are completely clean and disinfected and after prophylactic treatment at the point of entry.
Homemade or artisan products are not allowed.
Free-range chicken. Products of pig origin and their derivatives originating in countries with the presence of African Swine Fever, such as: ham, sausages, bacon, pork rinds, sweets with pork, raw pork, dried meat, smoked cutlets , precooked sausages, pasta with pork, BBQ ribs, pork flour, lard, instant soup with pork, bacon toothpaste, salami, mortadella, sandwich with ham, chorizo, etc.
Raw leather products.
Pharmaceutical, chemical and biological products for animal use or consumption, or those that are designated for therapeutic or research purposes.
Fresh cheeses.
Sandwiches, sandwiches, cakes, sandwiches, hamburgers, pizzas, etc., with meat and dairy content without full packaging, or sanitary seal from the competent authority.
Hunting trophies (mounted, fresh, salty, others).
Vessels or articles with content of animal, vegetable or unknown origin.
Aquaculture origin
Live, raw and dried crustaceans.
Aquaculture products (except fillets and fish for consumption).
Fishes.
Live turtles.
Regulated products of aquatic origin, in poor condition, in decomposition or with the presence of larvae or insects.
For more information from SENASICA, it is recommended to visit its official website, where you can also consult the agri-food products with which you can enter from the United States.
The QUÉ T TRAES mobile app will allow you to consult this and much more information, as well as everything you need so that there is no problem during your return to Mexico.